Over the last few months we had the feeling Ubi was getting slower. Our crossing from San Diego to Mexico was mainly by motor and we didn't have a fast average. That was ok: we had time and we stopped for fuel along the way to make sure we'd make it to Cabo and La Paz. Thanks to Justin on S/V Litha for helping us transport diesel three times from the local gas station to the boat via a pickup truck and dinghy ride. Note: that was before we discovered the mysterious diesel tank was full of diesel. We regularly dove with our snorkels and a brush to remove the algae that were settling in and the process was definitely removing some of our antifouling as we could see the small cloud of blue ink in the water around the areas we brushed.
Some months past, we went up to Loreto and then South back to LaPaz. When it was time to cross to La Cruz, we did a few days of day-sailing to get us closer to the crossing point; it also minimized our crossing from 5+ days to 3 days and 2 nights (58 hours). When leaving the bay of La Paz, our friends on S/V Avalon overtook us while their engine throttling around 1000 RPM while we were pushing around 2000 RPM. We were slow !
Over the next few days, at these nice anchorages on the Southern tip of the Baja Peninsula, we spent some quality time with Ubi and rubbing her belly. But it was not so much the algae this time, it was the barnacles ! A myriad of small cones had developed on every submerged surface of Ubi. She didn't have the smooth bottom she use to have: all her new friends were creating a bumpy and uneven surface resulting in a dramatic efficiency loss when moving in the water. No more gliding on a slippery surface, it was like sandpaper. We quickly realized that a gentle brush and cloth will be no match against the hard shell of the barnacles. We took out our paint scrapers and got to work. With these tools, the barnacles would easily detach and sink but we had to scrape every square inches while holding our breath under water. We tried different strategies: one was to dive and hold in one place to remove a 3 ft by 3 ft square in a breath; another one was to start from the stern and do a long line underwater till the bow, scraping only a small 3-inch band at the time. We ended up alternating these techniques for the 4+ hours we spent. But it worked. For the crossing, our speed under motor increased for lower RPM.
Some spots had also some algae growing in patches. We could see where the supports were when the last bottom job was done in Martinique: some square that would only be covered by a thin layer before Ubi would be hauled in back in the water, definitely not enough time to dry or hold. We could also see the marks of where the bands of the cranes lifted her up. These spots were like a floral beard, but they couldn't resist the scraper.
Once done, the process left lots of little paintless dots. We can only expect that new barnacles and algae will find them and restarted their endless colonization efforts. And that, until we put back on fresh new coat of antifouling paint that prevents/limits growth and keeps Ubi's belly nice and smooth.
Unfortunately for us, Ubi is picky (some say French) and would not tolerate any regular paint. Being made out of aluminum, she is allergic to copper-based paint that is used for the majority of fiberglass boats. So we needed to find her special paint formulated for aluminum hulls. Leaving San Diego, we expected to find cheap labor and cheap materials in Mexico. It is hard to conceive why it would be any different. But we were naïve and wrong: a lot of boats are attracted to the Sea of Cortes and only a few are leaving: the marinas are full and the boatyards are busy. They have a lot of work and people need to have their boat maintained and painted. So the prices are high, almost at the US rate. We tried to get this special paint in La Paz and the manager at the boatyard would import it from San Diego, with a Mexican import fee and a hefty margin. The paint would be more expensive in Mexico (~$450 vs $250 a gallon in the US). We later on read online of similar reports and their conclusions: BYOP, bring our own paint. We decided to try and do the bottom job in La Cruz so the paint could get in while we were reaching La Cruz. Our contact ordered the paint and we started sailing.
When we reached La Cruz after a week or so, our contact admitted that the paint was not ordered and that we would need to pay upfront the cost. We were in a bind: we didn't want to pay at by at the mercy of this clearly unreliable person without any means to get our paint or money back, but we still needed the paint and work done. And it seemed the same dance would happen in other places in Mexico: why would they order paint that they rarely used? The best solution to us was a deposit but that still left us uncomfortable. When we resigned and walked to the boatyard to say we'll pass on doing the work in La Cruz, the manager said he would pay for the cost upfront. Too good to be true? We welcomed that great news and booked the haul out (with no deposit): if the paint comes in on time, we will proceed otherwise we are all clear that we will walk away and restart the whole process in a further location. And we'd keep our routine underwater scraping until done.
We crossed our fingers. The morning of the haulout, the paint was reportedly a few hours away: just enough time to pressure wash the bottom and let it dry. The day went by, but no paint in sight. "Mañana" for sure. The next morning, we lightly sanded the previous coat as the paint was coming soon. The morning and the day went by. The paint had arrived in Guadalajara and will be here tomorrow first thing in the morning. And it didn't. The paint apparently had to be delivered over by a special truck which was stuck at the US border. So it couldn't come, unless we would paid 1,500 Mexican pesos. The paint dealer also explained that he was the only one who could get this special paint in the area; so we should better comply. We refused to take any more part in this scam. The local boatyard painter, who was a middle man in the process, tried his best to press and fix the issue. But he couldn't. However, he suddenly remembered that he had somewhere in stock 2 gallons of Interlux Trilux 33: the best paint available for aluminum hulls. We still don't know how he got it and why he only remembered so late in the process. Our best guess is that we always requested 4 gallons of paint and he only had 2. After a moment of thinking, we decided that our best bet would be to use the 2 gallons here while the boat is hauled out for a first coat, and then do a second one in French Polynesia. The advantage of this option was to eliminate our dependency on the unscrupulous paint dealer. Even better, we got after some negotiations a good price for the 2 gallons and all the tools the boatyard lended us. And we got to work.
To our surprise, we only need a bit less than 1 gallon per coat, leaving us a good buffer for the spots we missed and where the stands were supporting the hull. So we ended up applying two good coats and had more to spare.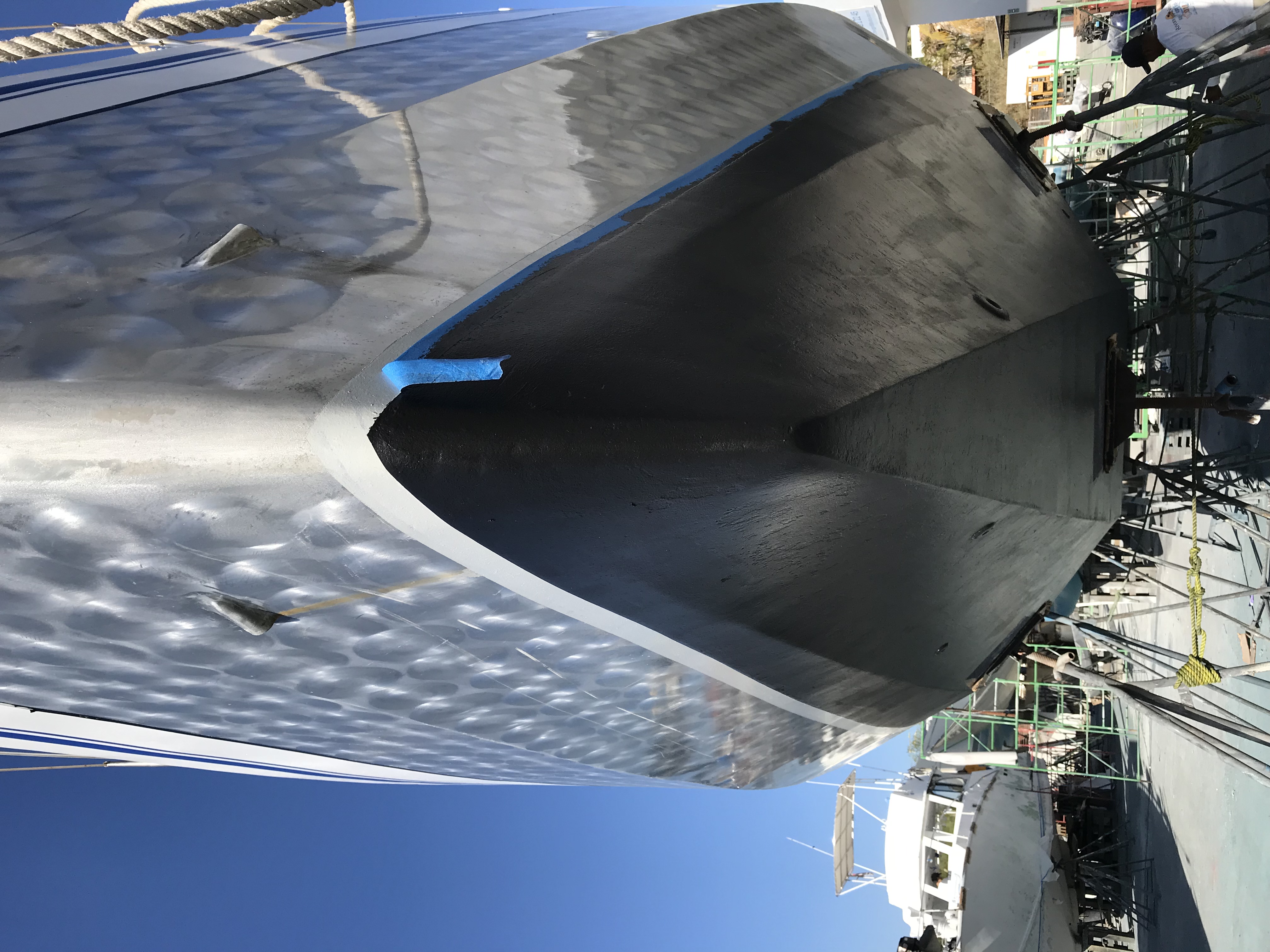 Lessons learned:
BYOP: the paint you need may be hard to find. If you find it at a good price somewhere, buy some for later. It is much better to carry some stock than to depend on some layers of middle man and dealers to get you an inferior paint at a premium price.
It is hard work. Although applying a coat of paint is relatively easy it requires some practice and a lot of preparation: pressure wash, "de-barnacling", applying the blue tape for the waterline, etc. In a geo where labor prices are attractive, consider hiring someone to do it for you if not with you. But in any case, be there and monitor each step to make sure it is done the way you expect.
Boatyards are hot and dusty. Even if some yards let you stay on board when the boat is on the hard, you would not wish it to your worst enemy. Ubi was baking in the sun the whole day and because of the dust from sanding fiberglass and paint of the other boats, we had to keep all port holes shut. The temperature inside the boat made it very hard to work inside, although we still did empty the mysterious fuel tank and lost a few pounds of sweat in the process. We were glad to find a nice place to expand and sleep, outside of the boatyard. Moreover, as with any boat project, the boat was a mess with all lockers opened and all tools pulled out. It would have been a pain to tidy up at the end of each work day.
We are now back in the water and ready to cross the Pacific with a clean fast black bottom.